Solid Metal Tiles
Exclusive
Mosaic
Sleek, solid and unrelentingly stylish, ALLOY tiles have changed the face of mosaics by delivering the seductive sheen of metal for interior and exterior surfaces. ALLOY produces exquisite and original collections of solid metal mosaic tiles, partly in collaboration with the international design legend Karim Rashid. This extensive range covering an exciting variety of shapes and sizes in 14 different finishes guarantees something for everyone.
Stylish design with careful attention to detail, and made to last a lifetime
Eye-catching patterns that draw attention and are beautiful to look at
Long lasting and hardwearing, won't dent, crack or de-laminate
Punched from an individual sheet of 1.6 mm solid, high quality metal
A variety of metals, finishes and a striking array of shapes and sizes
No backing mesh, plastic inserts or metal look-alike 'metallic' coatings
Materials – from traditional to high-tech
ALLOY has developed an innovative method of producing exquisite, high quality, solid metal mosaic tiles to decorate and enhance interior and exterior surfaces. The various collections are available in six types of metal: Titanium, Copper, Brass, and three different qualities or grades of Steel (Raw, Stainless, and Marine).
Finishes – from raw to luxurious
ALLOY's mosaic tiles are not only offered in six very different types of metal, but also in four distinct finishes, giving you even more choice, and helping you to find the perfect look for your personal design ideas.
Shapes – from simple to unique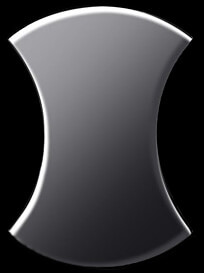 The collections of solid metal mosaic tiles from ALLOY comprise an impressive and exciting variety of shapes and sizes. These range from deceptively simple, familiar-looking geometric shapes to more exotic forms with unusual, flowing and rounded forms, and even completely unique, innovative shapes created especially for ALLOY by the international design legend, Karim Rashid.