Raw Steel Mosaic
Steel is an alloy of iron and carbon and other elements that was produced in simple furnaces for thousands of years, but its large-scale, industrial use began only after more efficient production methods were devised in the 17th century. The earliest-known production of steel is seen in pieces of ironware excavated from an archaeological site in Turkey, and are nearly 4,000 years old.
With the intriguing, deep blue-grey tones of varying intensity, ALLOY Raw Steel tiles and mosaics evoke a distinctly industrial feel. Carefully designed to provide an unsurpassed finish, ALLOY Raw Steel tiles are manufactured from mild steel using ALLOY's specialised technique that embraces its inherent irregularities. As a result each solid metal tile can possess a slightly different tone, making every Raw Steel tile installation beautifully textured and truly unique.
ALLOY Raw Steel tiles are solid, hardwearing and designed for longevity, and can be used for both interior and exterior applications. Raw Steel will retain its rich, varied blue-grey tones indefinitely if used for interior purposes. Unprotected raw steel, however, oxidizes and gradually acquires a reddish patina of iron oxide when exposed to the combination of air and moisture. For some users this 'aged' look is highly desirable (and designers seeking the unique, orange brown patina of Corten can specify its use in the raw steel mosaic tile), but if you prefer the mosaic tile to remain unchanged during its lifetime, we recommend ALLOY Stainless Steel or Marine Grade.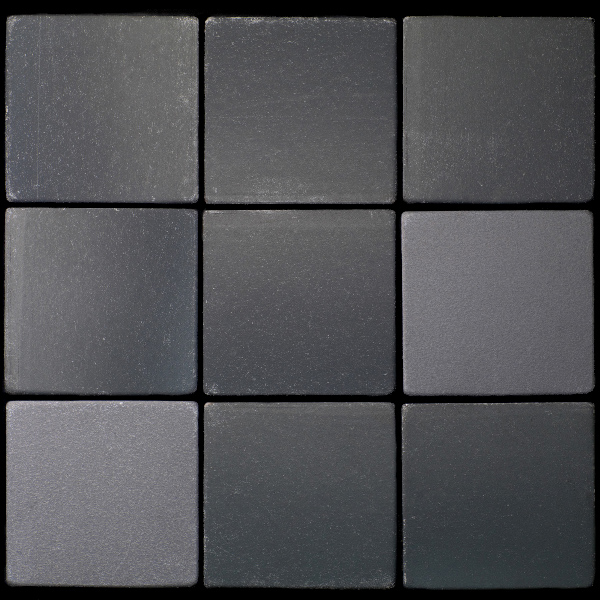 Raw steel mosaic tiles
The raw steel tile produced by ALLOY has a naturally matte, slightly rough, 'as fabricated' finish. This can be extremely attractive, but won't resemble a Mirror Finish.
The Advantages of Raw Steel
Raw Steel evokes images of steelworkers in their protective clothing. As a decorative material, Raw Steel helps to create a raw, and distinctly modern, industrial look.
Raw Steel is one of the metals that acquires a natural patina over time if untreated. Its reddish-orange coating gives it a characteristic 'vintage' or 'aged' look.
Raw Steel comes in various intense shades of deep blue-grey. Each mosaic tile made of Raw steel is beautifully textured and truly unique eye-catcher.