Brass Mosaic
Brass is a beautiful and useful metal, which has always been popular for decorative applications, and is again becoming the metal of choice. The era of cold, clinical-looking kitchens full of stainless steel and glass is coming to an end. The soft, golden colour of brass is no longer considered old-fashioned, as it introduces a magic and warmth into a room, making it more earthy, welcoming and relaxing.
Brass is a metallic alloy made of varying amounts of copper and zinc that produce a wide range of properties and variation in colour (from red to yellow) in the resulting product.
Brass is used where low friction is required, and sparks need to be avoided, but also for plumbing and electrical applications, and extensively in brass musical instruments such as horns and bells. Brass has strong antibacterial and antimicrobial properties. It's also a popular material for zips, and of course, for purely decorative purposes thanks to its bright, gold-like appearance.
ALLOY produces a brilliant, warm, golden yellow Brass mosaic tile that is punched from a single sheet of 1.6mm brass, is hardwearing and long-lasting and can be used indoors and outdoors. Exposure of the brass tiles to the air can result in the development of a thin protective green patina which, in itself, becomes a striking feature. Should you, however, prefer mosaic tiles that aren't prone to such oxidisation and keep their golden appearance, we suggest using the ALLOY Titanium Gold tile.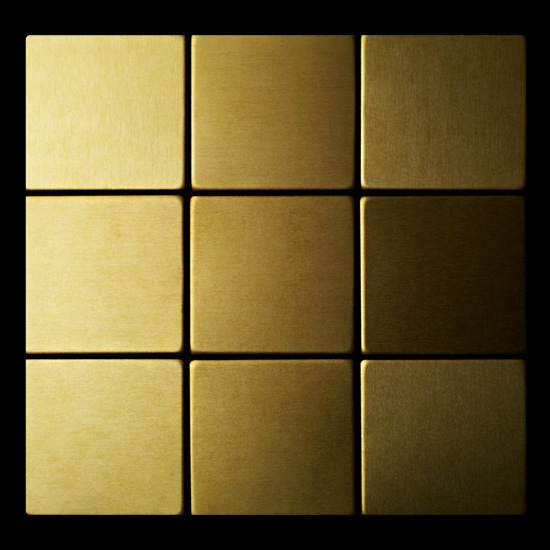 Brass milled mosaic tiles
The brass mosaic tile produced by ALLOY has a 'mill finish', which is a natural, slightly rough, 'as fabricated' look. Tooling marks, for example, may still be faintly visible. This can be extremely attractive, but won't resemble a Mirror Finish.
Brass is a traditional design material that experienced its 'golden age' in Art Nouveau and the Seventies. Now it's back again and hotter than ever.
In its natural state, Brass has an unusual, warm, golden colour. Brass acquires a natural patina over time and improves with each passing year.
After the cold look of Stainless Steel, interior design has rediscovered Brass. It's the perfect material for adding a touch of glamour to living spaces.